JOB · Pad Prik Khing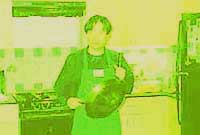 JOB formed during the summer of 1994 in the Bay Area region of California. The band started as, and shall remain, a trio, containing the likes of Mark Schifferli, Matt Lebofsky, and Jai Young Kim. They met in the Culinary Institute of America, all three taking classes on the side in order to perhaps abandon their stultifyingly dull day jobs and pursue careers as chefs. At one of their frequent and lengthy visits to the local watering hole after school, they discovered a mutual passion for Thai cuisine and began discussing a post-graduation plan for opening a Thai restaurant in downtown San Francisco.
Unable to continue paying huge weekly bar tabs, they began holding their organizational meetings at their respective flats, which afforded them the time to engage in all-nighter conversations about their extracurricular interests. Outside of their fondness for unbelievably spicy Asian food, they also all had varied levels of interest in music. Matt considered his experience with music to be nothing more than a passing fancy. However, Jai Young had spent some of his early 20s in New York City as a keyboardist in various hip jazz ensembles (including the Dennis Wynne Quintet, a house band at the Knitting Factory for six months), and Mark currently supplemented his income by playing in wedding bands on weekends.
Soon it became clear this dream of opening a restaurant was well nigh impossible, since all three were already severely in debt due to shelling out big bucks for the CIA tuition. They concluded their studies with no special plans for beyond that, except to remain in the Bay Area and hope to come across some restaurant work in the near future.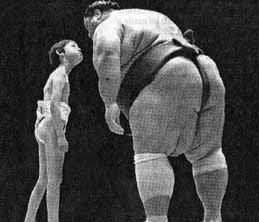 At a party held toward the end of their final semester, our three heroes arrived and ingested copious amounts of alcohol. A local band called the Tubetops played a set of irritating garage rock, raping the eardrums of the party-goers who stayed despite the horrible music being generated at volumes uncalled for. When the Tubetops took a break in the midst of their set to refresh their beer supply, the very inebriated Mark coaxed Matt and Jai Young into taking over the band's equipment and the three began playing their own little set of reactionary, angry, and cathartic, yet fun improvisations. Many of the party goers immediately took notice and were shocked, especially as Mark attacked the guitar with cocktail weiners, Matt spewed long streams of profane jibberish into the microphone, and Jai Young utilized an electric juicer on the bass strings until two broke. The Tubetops were not amused at all. After they returned from the keg and found their stuff being destroyed by some drunken culinary students, a brawl ensued, and ended quickly as Matt, Jai Young, and Mark fled the apartment.
Having had such fun creating such crazed noise and eliciting hilarious reactions from the victims in their captive audience, as well as having an influx of free time after graduation, the three began making half-assed plans to start a band on the side whose sole purpose was to sabotage certain events and, quite simply, to freak people out. They went through various names: Joy to the World, On and Often, and Brie Farm. Eventually they settled on JOB. Rehearsals were plenty, but occassions to play out were not. In the meantime they cultivated a unique blend of improvisation, noise, and disco strictly for their own amusement.
Mark obtained a regular gig at the Chameleon in San Francisco, playing with his jazz improv band Sparklecock every Sunday afternoon. One fateful Sunday all other members of Sparklecock had fallen ill, and in desperation Mark called Matt to sit in (Jai Young couldn't be reached, being out of town to attend his nephew's Bar Mitsvah). Matt gladly came to the rescue and he and Mark performed an entire afternoon full of guitar/drums improvs, dubbing themselves Hemi-JOB.
Soon afterward Sparklecock grew bored of their regular Sunday regimen of hauling all their equipment to the Mission to play to three homeless people who wandered in from the street. They invited JOB to share the gig and play approximately every other week. Not exactly a sabotage show, but at least they had a reason to make some noise in front of actual people. JOB finally played its first official show, beginning a lengthy string of random and eventful performances which continue to the present day. So there.
---
---
Last modified in September, 1998.