Who's Who in JOB
Jai Young Kim: Violin, sampler, synthesizer, mixer, bass, guitar, voice, etc.
Matt Lebofsky: Drum kit, guitar, Nord Lead, vocal, percussion, etc.
Mark Schifferli: Guitar, bass, sampler, percussion, etc.
---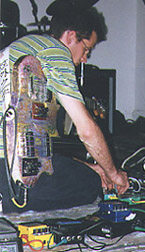 Mark Schifferli:
Mark moves to Cambridge, Massachusetts, in February, 2000. Before leaving the SF Bay Area, he is finishing up recordings for Job's new release North, The Apes of God, and the Myles Boisen Guitar Trio. Once he's in Cambridge, God help him.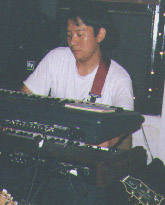 Jai Young has been known to sit in with other bands and projects, including Species Being, Kerauno, Mariposas Negras, Kap, Wonkavator, the Moe!kestra!, Flywheel (if it still exists), and even Bilge. Sometimes he resorts to performing under his own name when someone else doesn't think of a good band name for him.... On top of that he loves DJing, maybe even more than he loves playing the "conventional" instruments... or maybe to justify all the dough he drops on buying recordings!
Jai Young has recently updated his Web page, so you can go there to find out more about him.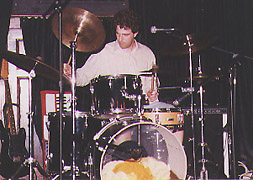 Matt Lebofsky:
Matt searches for extraterrestrials by day, and then wishes he had the energy to join every band that currently exists on this planet by night. Currently he has a few projects eating into the JOB rehearsal schedule. First, he's the bassist in Mumble & Peg, an Oakland-based singer/songwriter rock/folk/angst trio which actually tours and has a distributed CD on an indie label. Then, quite infrequently, he sits in with the inconceivably popular cover-band-to-end-all-cover-bands, Herb, which celebrates the wonderful and bouncy creative output of Herb Alpert and the Tijuana Brass. And if he ever finds enough time to compose and practice his own tunes he'll record them by himself (since he has yet to meet a single human being willing and/or able to play this stuff) under the current moniker, Midline Errors. Despite what you may think due to Matt's musical promiscuity, JOB has been the longest lived and most creatively rewarding band in Matt's entire music career thus far.
And if you like seeing personal WWW pages that get updated and expanded far too often than should be legally allowed, click here.
---
---
Last modified in January, 2000.