JOB · Let's Talk about God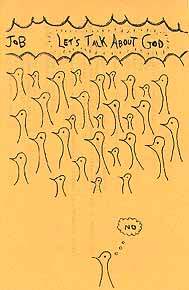 Side A
(1)
Drums from Africa
5:18
(2)
Street Sweeping and I Love You
5:23
(3)
Clear
4:12
Side B
(4)
Euphemist
2:13
(5)
Where Was I?
1:26
(6)
Wigs
4:41
(7)
Bionic Self Discovery
2:24
(8)
Your Mother Was the Most Beautiful Cricket in the World
3:31
Noise improvised live to DAT at Feast or Famine Studio, San Francisco, CA, 1995-1996, except for (3), recorded at the Chameleon, SF, 1995.
Mixed and released in July, 1996.
JOB: Mark Schifferli, Jai Young Kim, Matt Lebofsky.
---
This cassette-only release is available directly from us for four (4) U.S. dollars, postage paid.
Or less if you can talk us out of it.
JOB
675 Tennessee St Suite 2
San Francisco, CA 94107
415.522.1368
e-mail: jyk@feastorfamine.com
---
---
Last modified in July, 1998.