JOB · Party at Ilan's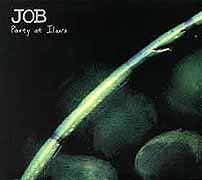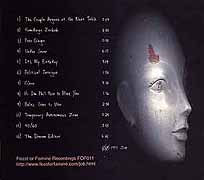 Source material improvised live to stereo tape by Job at:

Feast or Famine Studio, San Francisco, CA, 1996-1997,
the Stork Club, Oakland, CA, 1996,
the Hotel Utah, SF, 1996, and
the Chameleon, SF, 1995.
Matt Lebofsky - drums, keyboard, vocal
Mark Schifferli - guitar, bass, sampler, voice
Jai Young Kim - keyboards, drum, voice

Our first full-length CD release Party at Ilan's is out! We're still working on wide-scale distribution of our product, but for now it can be found at Aquarius Records in San Francisco and Amoeba Music in Berkeley and SF. It can also be ordered directly from Feast or Famine by sending them mail. The CDs are selling for ten (10) US dollars apiece, postage paid, but if you give a sob story we can work something out.
So far the reviews for Party at Ilan's have been overwhelmingly positive:
"[Party at Ilan's] is a wonderfully schizophrenic conglomeration of everything from funky hard bop to droney Eno-esque soundscapes. The music is purely improvised and the members... are known to switch between instruments to keep things lively." -John Shiurba, The San Francisco Bay Guardian

"Listened to it right away, and I was blown away. I really think this is some of the most inspired and inspiring experimental music I've heard in a long time. ... The Job album is living proof that you guys in SF are way ahead." -anonymous

"...I saw the light when I finally put on Party at Ilan's and that CD was fucking amazing. ... [It] seems to have its own internal coherence and sense of humor to boot. It is a definite noise classic..." -D. Welch

"Haven't heard anything remotely like it in a while, it should be ear candy for the experimental headz out there, way phuckin' cool..." -anonymous

"I really like your CD." -Shizuo of Germany's Digital Hardcore Recordings

"Party at Ilan's is possibly the best album since Dark Side of the Moon! (moon, moon, moon...)" -I. Reuben

"That CD fuckin' rocked my world. My favorite CD right now... I totally, totally just dig it. It's THE SHIT." -Marco Villalobos

"[The pieces] drift through woozy versions of avant-garde harmonics, bent conceptual rock music, and other, more familiar genres... [They] often disintegrate into a modulated, metallic roar. In one case, a lilting, jazzy mishmash segues into sounds of breaking glass, a repeated sob, a baby's shriek." -Matt Smith, SF Weekly

"It's a great record." -Thomas Dimuzio

"The neo-Celtic design on the CD's top face is great." -anonymous

"I was entranced by the Job CD." -anonymous

"Your CD is so cool." -anonymous

"...pagan ancestral spike into my living soul... it reaches into my gut, primordial ooze..." -Rockin' Bob (bh@rockinbob.com)
But of course, we've received some not-so-positive comments:
"I wish there was more alternation between atmospheric and polyphonic/contrapuntal stuff." -anonymous

"The recording quality sounds very good, very clean; but the live mic stuff sounds lo-fi and blemishes the overall perception of professionalism." -anonymous

"What kind of music is that?" -Matt's mom

"I like parts from the CD but others get just a bit too unstructured for me. Same goes with Squarepusher or all these other heroes of the mid-'90s..." -anonymous

"Um, it's interesting, but nothing I'd ever listen to on a regular basis." -Matt's (older) brother Ben

"My favorite track is probably 'Poor Ginger'... Was that Gilligan? If so, which episode?" -anonymous

"Oh, you do that annoying thing where you don't put the name of the band or the album on the CD." -Evan Rappaport (Matt's old high school chum)
---
---
Last modified in February, 2000.